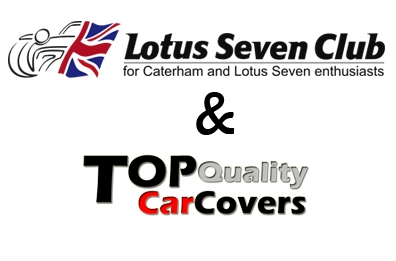 We are proud to announce that we have reached an agreement with the Lotus Seven Club to offer special discounts to all members of the club on all our catalogue. The Lotus Seven Club is the custodian of the Lotus Seven & Caterham Seven. The club also enshrines the Caterham 21 which this year celebrates 25 years with approximately sixty cars remaining road worthy.

From today, 4500 members of the club will enjoy special discounts on our catalogue. We will also be working with the management team for additional benefits which will be annonunced very soon! In order to profit from this discounts, members of the club will be provided a discount code which can be used to order online and also over the phone. Details of these will be provided through the club´s site in the coming days.

TOP Quality Car Covers has over 10 years experience in designing, manufacturing and distributing high quality car covers all over the world. We have over 5000 patterns in stock and can produce custom covers for all Lotus / Caterham 7 versions.

Contact Details with our Customer services team:

- [email protected]
- Contact number: +44 (0)20 3289 4925

Customer service line is open Monday to Friday from 09:00 to 17:00.
Our team is very excited about this new partnership and look forward to start working with the club in new car cover designs for the Lotus 7.
Please check out some of recent productions: