Enjoy the opportunity to shop at the Cover Company store online and pay later. Here you can find all sorts of vehicle covers and so much more. You'll always get flexible payment options when you shop with Cover Company. We have launched ClearPay at our shop. It lends you a fixed amount of credit to allow you to pay for your purchase over 4 instalments, due every two weeks. To be eligible for credit from Clearpay, you must be a permanent UK resident (excl Channel Islands), aged 18+. Further eligibility criteria and T&Cs apply. Clearpay Finance Ltd.
How it Works?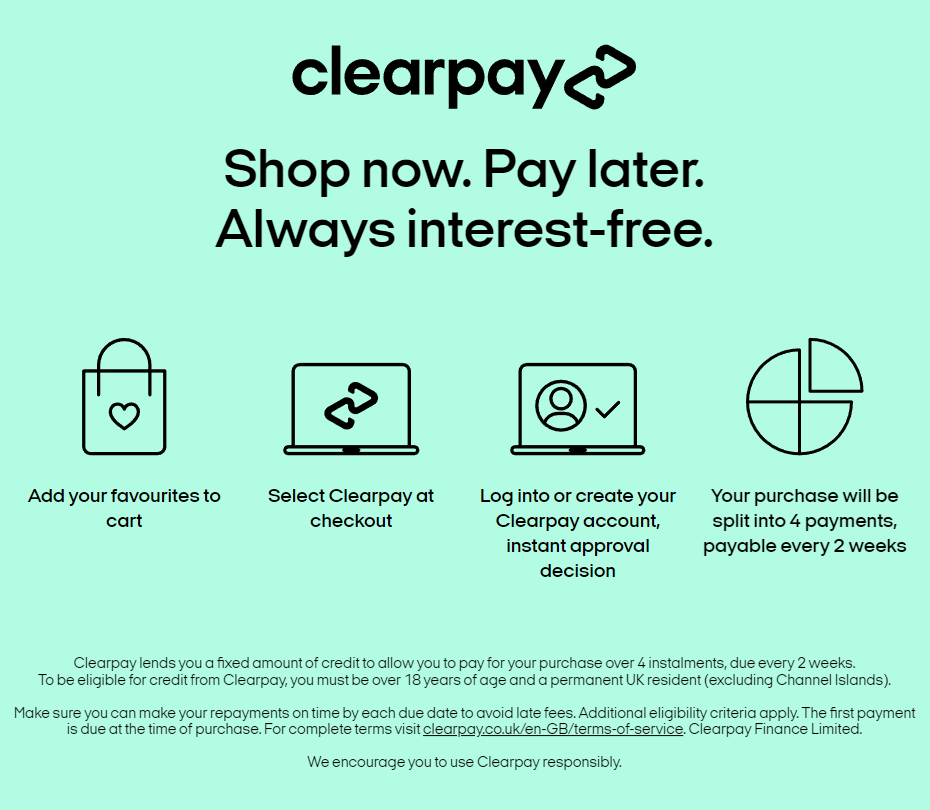 1) Add your favourite items the cart
2) Select Clearpay at checkout
3) Create or login your Clearpay account, instant approvañ decision
4) Your purchase will be split into 4 payments payable every weeks
5) Enjoy your order
How does the payment schedule work?
All customers are required to make their first payment at the time of purchase, with the remaining three payments deducted every two weeks from your chosen payment method. If you choose to make additional payments before your scheduled pay dates, you may do so through your Clearpay account. You can log in to your Clearpay account to view your payment schedule and make a payment before the due date if you choose to do so.
How do I return or exchange an item purchased using Clearpay?
If you have changed your mind, you can return your Clearpay purchase in-store or by mail for a refund. Please check that your return or exchange meets our Return policy here. Clearpay will be notified of your return and will process the appropriate refunds. Please do not
return your purchase to Clearpay.
If you believe there is fault or concern with your Clearpay purchase payment, please contact Clearpay customer support at [email protected]
Where can I find out more about Clearpay? If you would like to know more about Clearpay, visit the Clearpay website www.Clearpay.co.uk for a comprehensive list of FAQs , terms, as well as Clearpay's Privacy Policy, which can be found at www.clearpay.co.uk/en-GB/privacy-policy.
If you have any questions about your Clearpay account, please contact Clearpay directly via a web form.
When will my items be delivered if I use Clearpay?
Clearpay orders are delivered as per our standard shipping time frame after you complete your order online. Visit the retailer's shipping page for more information.